Saturday, November 1st, 2014
The Apple that fell far from the Tree is a documentary film that depicts a day in the life of Mr. Sean Sea, however on this particular day he experiences a series of daydreams, reflecting different times in his life, that flash through his head uncontrollably throughout the day.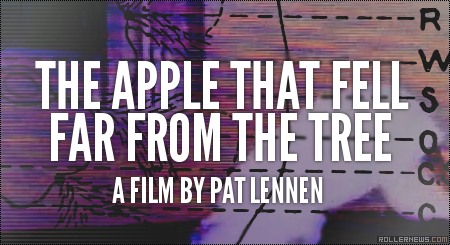 Reflecting on his rollerblading lifestyle and a series of traumatic events that resulted from it causes him to spiral downward into a sad state of depression and lunacy. He comes to the realization that his dedication to his lifestyle has guided him nowhere except into the dirt.

He symbolically covers himself in mud and parades through the streets in one last-ditch effort to eliminate some of the ignorance and stupidity that surrounds his lifestyle. However as he continues parading through the streets covered in mud, he finally realizes his choice to continue on with this lifestyle is not contigent upon how anyone views it, but is for different reasons altogether. Sean Cullen is a real person. The outcome of his lifestyle is yet to be determined.
Also Starring Patrick Lennen and Erik Bailey. Produced by Patrick Lennen.
Additional Editing by Paul John. Tromatik Pictures 2004.