Sunday, March 6th, 2011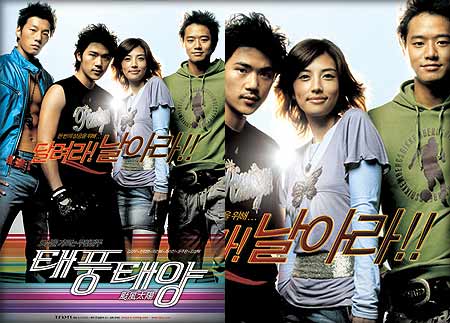 The Aggressives (Taepungtaeyang) is a korean movie about Rollerblading released in summer 2005, directed by the woman Jeong Jae-eun (review).
Plot: The Aggressives centers on Soyo (Cheon Jeong Myeong), a seemingly quiet, unassuming teenager whose ordinary humdrum life soon changes when he discovers the thrill of inline skating. His love for the sport eventually causes him to meet up with a group of skater boys that include Moggy (Kim Kang Woo), a kid whose awesome board skills immediately capture Soyo's attention. Moggy's girlfriend, Hanju (Jo Yi Jin), asks Soyo to join them and with his parents out of the picture, Soyo quickly immerses himself in this new subculture, eventually bunking with the team. His friendship with Moggy and Hanju soon takes off, and his loyalty to the team's leader Gabpa (Lee Cheon Hee) soon results in an exciting new development in the romance department.

But when Moggy is forced to shoot a commercial to score a plane ticket to the world inline skating championships, he snaps and deliberately causes an accident. Moggy's act puts the whole gang into debt, forcing the team to scramble for money to recoup the loss. A rift soon develops among the team members: Moggy stops skating, Hanju and Gapba want to leave as well, and even the once-eager Soyo starts to lose interest. Can the team pull it together or is their friendship doomed to failure? (via).

You can check the full video in original version (with subtitles) on youtube in 8 parts: 01, 02, 03, 04, 05, 06, 07, 08.