Tuesday, May 26th, 2015
The ASA High School Tour is an interactive action sports circuit that visits cities across the United States supporting the Campaign for Tobacco-Free Kids and StopBullying.gov.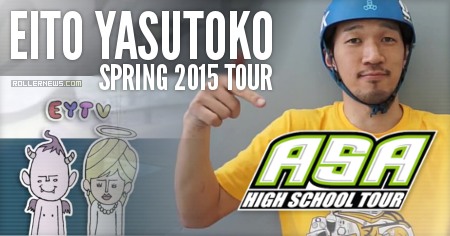 ASA brings in five of the world's top professional skateboarders, inline skaters and BMX riders from the X Games to perform on a state-of-the-art half-pipe, while an emcee delivers an educational message in a fun, positive and interactive fashion. Students can win prizes, get autographs and participate in a variety of contests with our partners.

Each show utilizes the allure of action sports and the credibility of the top pros to communicate a peer-to-peer anti-smoking or bullying prevention message. These assemblies are the talk of the campus all year and the student's retention of the educational message is phenomenal.
Eito Yasutoko – Spring Tour 2015: All the Videos
Part #1 | Part #2 | Part #3 | Part #4 | Part #5 | Part #6 | Part #7.