Tuesday, April 26th, 2011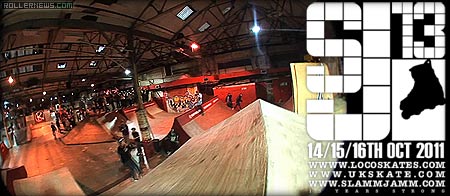 Time to place SJXII in the box of history and time past and look ahead to the Slammjamm XIII (14, 15, 16th Oct 2011).

This is our Lookback edit into a slice of last years SJXII which took place on the 15, 16, 17th Oct 2010 at Rampworx Skatepark Liverpool England.

Filmed & Edited By Jordan Maders, contribution footage by Brett Davies. Motion Graphics by Ed Inglis. Sound Effects by Incus Sound.

Music: Erol Alkan & Boys Noize – Waves.
Slamm Jamm Time Machine
2010 | 2009 | 2008 | 2007 | 2006.
2010 Winner: Scott Quinn (full results).
2009 Winner: Sam Tuffnell (full results).