Thursday, November 17th, 2011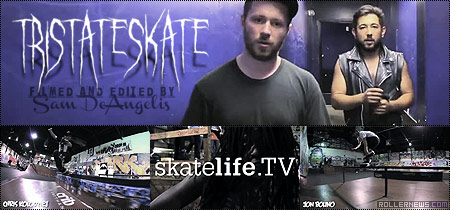 There were countless reasons for originally having the thought to open a skate shop. I wanted to work for myself, I wanted to work doing something I love and have been doing for 16+ years, and the list goes on and on. One of the main reasons was because I wanted to create something I didn't have growing up skating in the NJ/NY area.

I wanted to open a shop where kids could come and check out merchandise in person, meet other kids to skate with, and most importantly, a place where kids can come (very often at TSS!) and not just meet, but also SKATE with their idols. This was something I rarely had the opportunity to do as a young skater because I didn't have access to a local shop.

TSS was lucky enough to have Brian Shima come thru with the entire SSM team, as well as Psyko Clothings Josue Diaz and some Psyko riders. SSM and Psyko being skater owned and operated businesses, Shima and Josue were generous enough to make the drive to the shop to do an autograph signing, but also actually skate with all the kids downstairs for quite sometime.
Seeing how happy the kids were (who's shoes I was once in) when they meet and skate with their idols is an amazing feeling for me. To be able to do something positive for the kids in the local blading community. The same loyal customers, who without, there would be no TSS. I have been lucky enough to have almost all of the best BLADERS in the world come to TSS to meet and skate with the kids, some pro's on more than 1 occasion.

TSS customers are lucky enough to have the opportunity to meet and skate with professional rollerbladers AT LEAST every few months here at TSS/Drop-In Skatepark. The gratification I get out of seeing the looks on peoples faces who are skating right next to their favorite pro is an indescribable feeling, and that is why I opened Tri-State Skate. Companies like SSM and Psyko (amongst MANY more) are the ones who help make it all happen. -G. kieffer.