Friday, April 10th, 2015

Winner: Gene steagall | Best trick: Victor Arias.
Location of the spots in the video: [Spot 1] Independence High School (Planetarium rail). [Spot 2] Mt. Pleasant High School (front rail). Music: Two Fingers – That Girl. Cameras: GoPro Hero4 Silver (720p 120 fps), Canon 60D.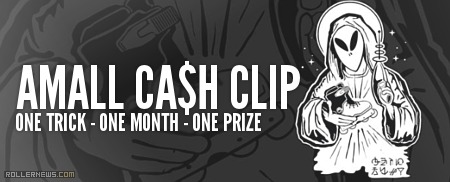 Amall Cash Clip | April 2015
The Amall Cash Clip for april is alive and well! This month the trick is 360 Topsoul, the easy way, outspin 270, however you want to call it. The contest runs until the end of the month and the prize is $100 US Dollars.