Saturday, September 12th, 2015
As some of you may know, Rob Scallon, the talented Youtuber / Guitarist, is also a blader ; Rob won the Windy City Riot 2011 Park Contest and here is his 2011 Blading Profile.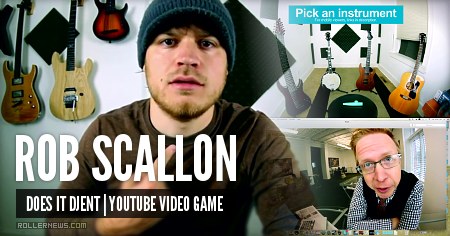 Rob Scallon did a Youtube video game, where you have to do some choices at the end of each video. Some decisions will lead you to blade (video below). For the more impatients, here is the Youtube blading video you'll be able to reach in this game.
If you watch this video on mobile, you won't be able to make choices at the end of the video, here are the direct links: 9 string, Banjo, Kazoo, 7 string, Acoustic.
If you don't know Rob Scallon, here are some goodies: Slayer – Raining Blood (Banjo cover), 30 Songs in 1 Minute, 21 Best Rap Basslines (also check his Youtube Channel).