Saturday, February 1st, 2014
In May 2013 in the last minute, plans came together for Kevin Dowling, myself and Garrett Slobey to travel to to Jacksonville for the infamous Panhandle Pow-Wow.

On our way down, we knew only two things, we were going to be camping and we were going to be raging, the rest was up in the air.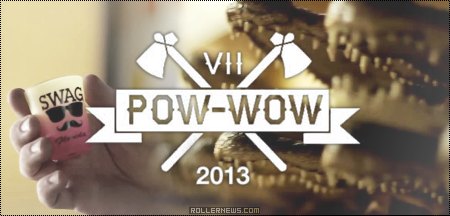 The rain on arrival definitely began the trip with a bit of a somber mood, but after Kevin was insistant that we needed to camp at the oldest skatepark in our nation regardless of the conditions, we got set up and good times ensued.

I can honestly say that this trip is the best single experience I've had in my entire rollerblading career and I can't wait for the Panhandle Pow-Wow 2014. – David Dodge (Ideasforlions.com).
Music: BJ Thomas – Raindrops Keep Falling On My Head, Monster Rally – Honey, Javelin – Vibrationz.
That is exactly how comps should be covered, the boys, handling lifestyle hammers, some skating, Thomas and Adam, Blake clips, little dudes getting love from the elders, cussing, me saying suck my dick, its all there Dodge. – Kevin Dowling.
Panhandle Pow Wow: More Media.
2013 | 2012 | 2011 | 2010 | 2009 | 2008.
2013 Winner: Jon Cooley (full results).
2012 Winner: David Sizemore (full results).
2011 Winner: David Sizemore (full results).
2010 Winner: Brian Aragon (full results).
2009 Winner: David Sizemore (full results).
2008 Winner: Montre Livingston (full results).
Pow-Wow 2014: March 14-15th. Visit Panhandlepow-wow.com.