Posts Tagged 'piter street games'
Sunday, August 3rd, 2014
Place to be x Piter Street Games 2014 by TheRolling
Music: Allah Las – Tell Me (get the song on Amazon.com
).
At the end of June we were invited to Saint Petersburg for the Piter Street Games. Between events we enjoyed endless street spots, beautiful city and super friendly hospitality of locals. Thank you for it all, we will be back!
Official Edit of the Piter Street Games 2014 (All categories)
Monday, July 14th, 2014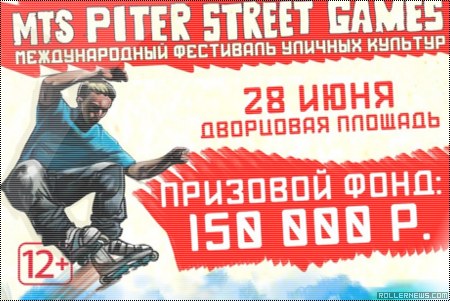 Saint-Petersburg, Russia (June 28). Filmed and edited by Stepan Frankovsky. Additional filming by Mihail Halibrov. Visit Pitergames.ru.
Results
Konstantins Makarovs (Riga, Latvia) – 500 euro
Anton Bobrovskiy (Saint-Petersburrg, Russia) – 300 euro
Ruslan Kim (Ivanovo, Russia) – 230 euros
Michael Romanenko (Novosibirsk, Russia) – 100 euros
Lev Goloviznin (Saint-Petersburg, Russia) – 70 euros
Best trick: Konstantins Makarovs – 360 topsoul @ wallride.