Posts Tagged 'nl contest 2007'
Tuesday, May 8th, 2007
Julien Cudot at the NL Contest #2 (Strasbourg).
Edit by Raphael Dos Santos.
Thanks Xsjado_Antoine (french topic)
NL Contest Results :
Street Pro:
1. Stephane Alfano
2. Stephane de Freitas
3. Mushroom
4. Julien Cudot

Vert:
1. Julien Cudot
2. Oustiti
3. Patrick Zimmerman

Street amateur:
1. Lucas ?
2. Diego le suisse
3. Hugo de Sousa
Monday, April 23rd, 2007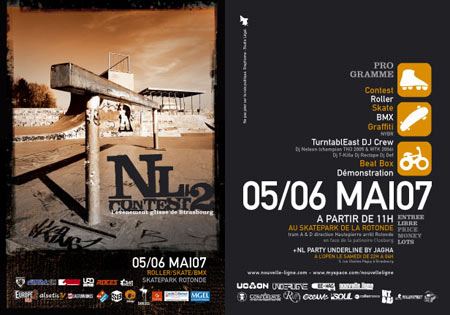 Don't miss the Nouvelle Ligne Contest #2, in Strasbourg, France. 5th and 6th of May 2006 + a street contest on the 7th. You can check all the media of the previous year here.