Saturday, June 4th, 2016
Last summer, Chad Anthony, Julian Mire, and Josh Broughton piled into the Southern Scum van and made the drive from Kentucky to Michigan, all in the name of rollerblading. At what used to host the late Bitter Cold Showdown, Modern Skatepark once again opened its doors to rollerbladers from all over the world.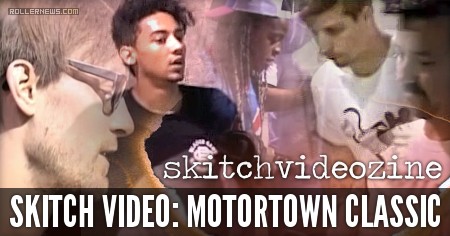 In less than two weeks time, MTC is happening again. In honor of its return, SVZ is releasing the contest section from the first issue of our video series. Featuring skating by Julian Mire, Kevin Lapierre, Alex Broskow, Montre Livingston, Travis Rhodes, Soichiro Kanashima, Julian Bah, and Brett Urbas.
In other exciting news, Modern Skate and Surf will play host to the world premiere of Skitch Video Zine, the second issue (trailer). On June 17, 2016 the night before The Motor Town Classic, we will be premiering the new video. The morning of the contest we will be premiering the newest issue of Skitch zine, at the annual tradeshow. We can not wait to show everyone the new content & to rip Modern a new one.
The video will finally be available for download (VOD format) the morning of the Motortown Classic, June 18, 2016. You will be able to buy it on Sellfy.
More Media: Skitch Video | Motortown Classic.