Posts Tagged 'micah simang'
Saturday, May 4th, 2013
March 2009 Repost.

Monday, August 31st, 2009
Where on earth has Micah Simmang been for the last year? Well lets see, London, Paris, Amsterdam, Barcelona, Florence, Rome, Bad Reichenhall, and Munich just to name a few.

What you are watching is a profile teaser for Micah's upcoming profile in the new movie called *Au* For whatever reason, these clips were leftovers, but still good footage. Micah is the man!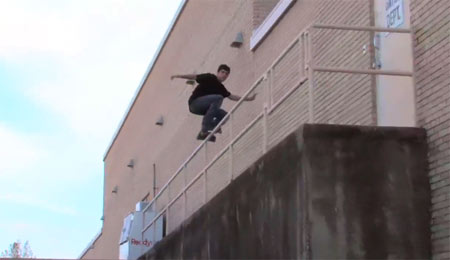 *Au* includes full profiles on John Sullivan, Fritz Peitzner, Micah Simmang, Troy Maimone, Brady Johnston and Keaton Newsom, with a nice surprise from our good friends out in the Bay Area, Nico Sotomayor and Korey Waikiki!
Movie also includes tour footage in and around most of Europe, Texas, Arizonia, San Francisco and the surrounding Bay Area.
Song: Andre 3k – Trans DF Express. Camera: Canon XH A1 – w/ Century Optics .3 lens – Shot @ 60fps – Sliced and Diced in Final Cut.Thanks Josh Glowicki.