Posts Tagged 'marce martinez'
Thursday, January 21st, 2010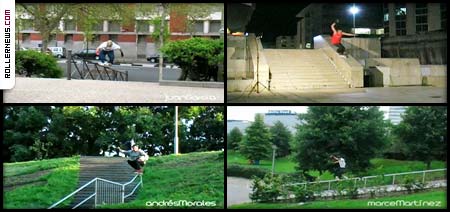 Filmed & Edited by Marce Martinez.

Featuring: Juan Garcia, Javi Quijada, Felix Caballero, Pelayo Gonzalez, Guillaume Le Gentil, Andres Morales, Marce Martinez, Jorge Cerro & Alberto Campo.

Filmed in Madrid, Barcelona, Vigo, Bordeaux, Amsterdam, Rotterdam & Amersfoort.
Video Offline.
Monday, February 4th, 2008
Edit by Marce Martinez. Footage of january filmed in Madrid, Barcelona and Valencia.

Skating by Marce Martinez, Paco Rey, Ivan Aliaga, Ferdy, Rosca and more.

Song: Lunaman – Nutcracha
Stage6 HD Streaming & Download (web divx plugin required)
Thanks Marce for the mail.