Thursday, March 26th, 2015
Laced was back for another year at the UK's biggest skatepark: Rampworx!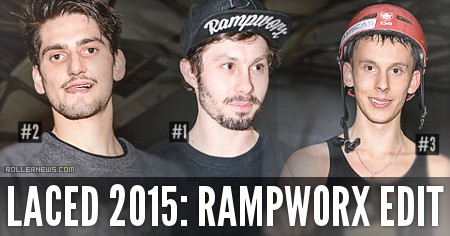 Some of the best riders on the planet from 19 different countries flew in to compete for the number one spot.

With hundreds of riders under one roof the level of skating was just insane, everywhere you looked next level tricks where going down.

The much deserved #1 spot was taken by UK Pro Steve Swain (full results). Who produced an insane performance throughout his runs. Photos: Rampworx.
Laced Series: More Media
2015 | 2014 | 2013 | 2012.
2015 Winner: Steve Swain (full results).
2014 Winner: Nils Jansons (full results).
2013 Winner: Nick Lomax (full results).
2012 Winner: Alex Burston (full results).