Posts Tagged 'ky battle 2016'
Thursday, September 29th, 2016
Wednesday, September 7th, 2016
Tuesday, September 6th, 2016
What would rollerblading be without the dedication of street contest(s)? The Kentucky Battle began in year 2000. We just finished up the 16th-19th contest. Just as each year before it, things got messy. Though it was an injury free event, Philip Moore & fellow skater boys went extra hard.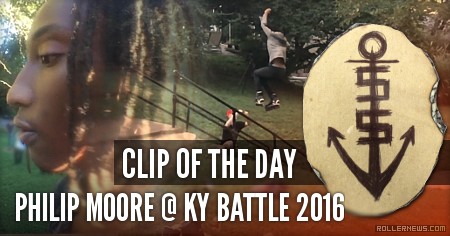 Here's a tiny bit of what happened at the last spot. The majority of my day was spent behind the lens of the V. The tour video will now have an entire section donated to the KY Battle. Maybe this week will be the week the tapes start getting imported. Prolly not though. – Southernscum.com.
Results
Philip Moore
Austin Loomis
Ben Poling
KY Battle: Time Machine
2015 | 2014 | 2013 | 2012 | 2011 | 2010 | 2009.