Posts Tagged 'kill it or grill it'
Tuesday, September 9th, 2014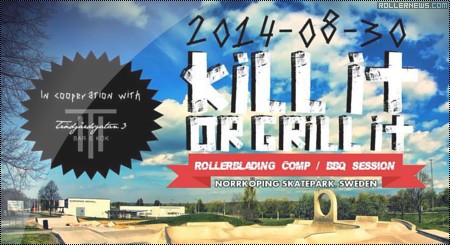 Filmed by Richard Karlsson & Joachim Wall. Camera: Canon XM2.
Kill It Or Grill It 2014 (Sweden): Edit by Zebastian Cassel + Results.
Saturday, September 6th, 2014
Kill It Or Grill It, a rollerblading competition in Norrkoping (Sweden). Filmed and edited by Zebastian Cassel Karnevik. Additional Footage: Stephanie Midhammar.
Music: Garden – The Plains, Broncho – What.
Senior Results
Joachim Wall
Joakim Lundberg
Patrik Johansson
Junior
Axel Bihagen
Gustav Dahlstrom
Filip Bergstrom
Best Trick: Joakim Lundberg (Disaster Soul Transfer Switch Soul).