Saturday, January 3rd, 2015
Justin Finley (33) nicknamed Grover or LT. Dan for various reasons has become a staple part of the SoFlo Collective in the past year.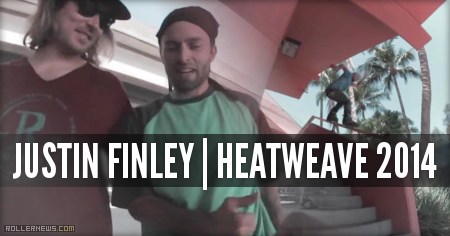 This year was huge for him. He ventured across the pond to Barcelona on our "Hola Tour", built all the amazing obstacles for the Panhandle Pow Wow, and travelled around the states building epic courses for a thing called "the battle frog".

While having such a crazy life, justin also manages day to day operations here at SoFlo by filling orders and doing the things that make the collective continue to function.

This footage has compiled over the year and it really shows how raw, amazing and crazy Justin's skating really is. So sit back grab a beer, your sea legs and a cape, and give yourself a watch! – Sofloroll.com.
Edited by Kenrick Chiocca & George Holmquist. Filmed by George Holmquist, Kenrick Chiocca, Tim Deaton, Cameron Joel McEachin, Safe journey & Rob Squire.
Previously: Justin Finley: Central Florida Rolling, Insight Profile (2012).