Wednesday, May 2nd, 2012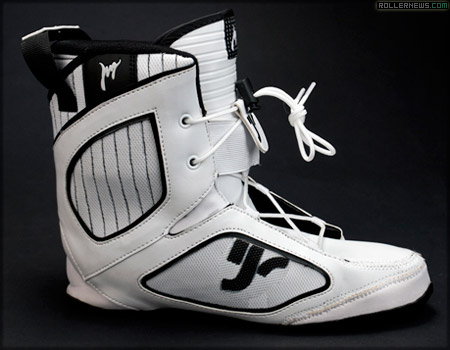 Due to popular demand Jug released a sequel of its Black Sox liner in white.

The White Sox liner comes with a dual density foam consisting of a high density EVA foam on the outside for support and stress distribution and a softer inner PU foam to adapt to the contours of your foot. A 3/4″ thick padding of the tongue significantly enhances fit and comfort and it comes with a removable insert in a hidden pocket.

New is a V-shaped elastic insert in the cuff which provides flex when skating with V-cut cuffs.

Unchanged is the high rebound shock absorbing insole, Velcro closure in the tongue to prevent shifting and the articulated ankle shape which keeps your foot locked in.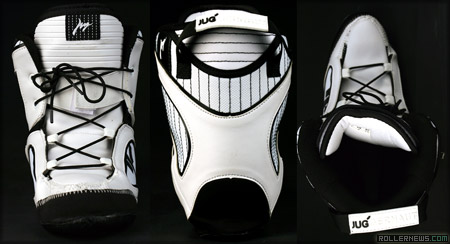 Features
Dual density foam – Extra padding in tongue – Elastic V-cut insert – Articulated ankle shape – Tongue pocket – Velcro tongue lock – J-pad ankle lock – Duel density Gel footbed – 4-point lacing system – Articulated, pre-shaped tongue.
Sizes: 6-13 plus size 10.5 ; MAP: 79.90