Saturday, February 22nd, 2014
Juho Pispa released Bladedice, an Iphone app for your B.L.A.D.E games (iOS 6.0+ required, Itunes Link).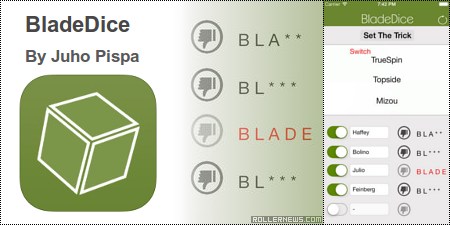 TRE339 presents the BladeDice app for Blading/ Aggressive-inline/ Freestyle Rollerblading/ Rollerblading. The app sets the trick combined from three different variables (spin, side, trickname).

Each player (1-5) tries to do the trick. If a player fails the trick, he gets a letter.

If a player gets five letters (BLADE), he drops out of the game. The last player without 5 letters wins. A great way to learn new tricks or mix up the normal sessions.
If you are running an older iOS version or Android on your phones, you might be interested by Trickit (iOS 3+), King of the Spot (Android 2.2+), Art of Rolling Skate Dice (Android 1.5+) or Freestyle Generator (Android 2.1+)