Tuesday, October 18th, 2016
Chris Majette's second independent release. Featuring the Philly Scene and the east coast. Showing a diverse range of skating, styles and skaters. This also features the first East Coast True Street Comp in which Colin Kelso comes out on top.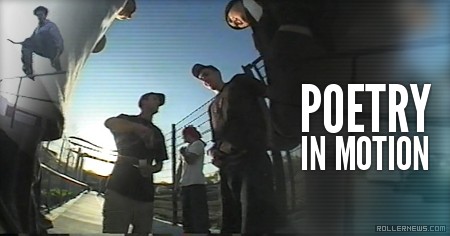 Featuring Sean Kelso, Selwin Briggs, Rob Thompson, Malik Kamara, Colin Kelso, Jeff Fredricks, Antony Serini, Mike Murtaugh, Scott Heinz, George Kramer, Chris Cheshire, Jimmy Shuda, and Adam Kilgore. Producer: Chris Majette (Denial Clothing).
Soundtrack Listing
Intro: Radiohead – Street Spirit.
Colors: The Juliana Theroy – Emotion is Dead Pt. 1.
Spot Checks: Ignite – Veteran.
Selwin Briggs: Outkast – Da Art of Storytelling.
Ectsc: Organized Confusion – Stress Remix.
Random 1: Face to Face – Complicated.
Random 2: Piebald – Watch Her Flow.
Drexel Ledge: Genesis – Land of Confusion.
Sean Kelso: Juliana Theory – To the Sound of 5000 Screaming Children.
Credits: Linkin Park – In the End.
Fall Section: Offspring – Falling.
Soundtrack courtesy of Rollingvideos | Video by Rollerblading VHS archive.