Posts Tagged 'fitted'
Thursday, December 29th, 2011


More Media: Fitted | Ramelle Knight.
Sunday, January 30th, 2011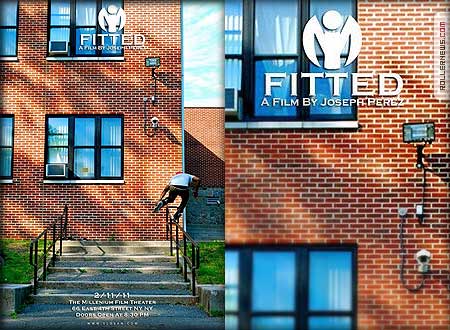 Fitted is a compilation of the best skating the Tri-State and New York Scene has to offer!

Director and videography, Joseph Perez has put in a tremendous amount of time on the production and filming of this film with help from Dan Fabiano and Sam DeAngelis. The dedication and drive that went into the making of this Dvd is above and beyond.

This film features sections on Ramelle Knight (NY) Tim Franken (NJ) Dan Breuer (MD) Trevor Johnson (NY) Dan Fabiano (NJ) Jose Henriquez (NY) and Ralphy Herrera (NY) with extra skating from Julian Flanders (MA).

The movie is a full 1080p HD Film. It will be available in the HD-DVD format. The movie was filmed on Panasonic HVX, Canon T2i, Canon 7D, and Panasonic HVT camcorders.

Fitted Premiere (Feb 11, 2011) NYC: Facebook Event.
Previously
Monday, October 25th, 2010

This Film is featuring Ramelle Knight, Rafael Herrera, Tim Franken, Dan Breuer, Jose Henriquez and Trevor Johnson.

During the late production of this film Trevor Johnson broke his knee filming for Fitted. We wish him a speedy and healthy recovery.
My name is Joseph Perez, I have 3 kids, a wife and a deadend job and a real passion for Rollerblading. I've been involved with the NYC scene for about 7 years now and I don't think I can stop.

I created the featured film "Fitted" in order to show how everyone even outside of rollerblading uses this trend of fashionable headwear to represent their style of character and where they come from. I'm not a fan of baseball but for some reason when my baseball team is winning I feel proud to be living in the town that they play for. Rollerbladers share this unity for where they come from by wearing a Fitted. I have chosen 6 of some of the most talented Rollerbladers from New York to Baltimore to New Jersey to represent Fitted.

I dream of continuing my travels to other locations/states in order to help grow a variety of footage for the video. I kindly ask you guys and everyone around the world that views this trailer, please help fund our project in order for us to release this entertaining film we call "Fitted". Check the details here at our link on kickstarter.com for fundraising options. We appreciate your time and hope that you would want to take part.