Wednesday, January 20th, 2016
Brazil (2015). Filmed & edited by Remy Cadier. Featuring Raphael Medeiros, Maxwell Alexandre and Sven Boekhorst.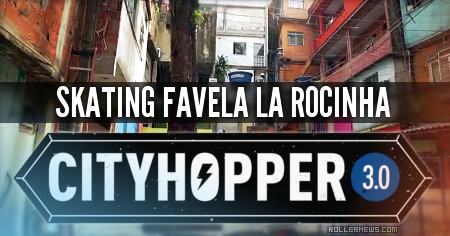 After we had wrapped up shooting the Cityhopper Rio De Janeiro part of Cityhopper world we wanted to donate the Cityhopper ramp to a good cause, and maybe have a look at the very famous "Curva Do S" miniramp in the La Rocinha favela.

In La Rocinha we had the opportunity to do a dirty little downhill and skate the miniramp before we headed over to the "Skate-Bike-Roller" skatepark, to whom we would donate our Cityhopper ramp.
Guiding us were Rubem from the SBR skatepark, Raphael Medeiros and Maxwell Alexandre, to make sure we got the shots we wanted, and also that we wouldn't get robbed ofcourse. Sven Boekhorst and Maxwell skated the miniramp, and I did a little downhill with Raphael. This was by far one of the coolest experiences we had during our time in Brazil. – Remy Cadier.
Music: Tropkillaz – Boa Noite. Trivia: Rocinha (little farm) is the largest favela in Brazil, and is located in Rio de Janeiro's South Zone (Wikipedia).
Previously
City Hopper 1 (2012): Video (Best-of) | Documentary | Trailer.
City Hopper 2 (2014): Video + Documentary | Trailer.