Thursday, February 9th, 2012
A documentary covering the highly acclaimed Chaz Sands Invitational inline skate competition, held at Rampworx skatepark in Liverpool, England.

Starring Chaz Sands, Billy O'Neil, Brian Aragon, Brian Shima, Chris Haffey, Fallon Heffernan, Franky Morales, Jenna Downing, Mike Johnson, Montre Livingston, Stefan Horngacher, Steve Swain & more.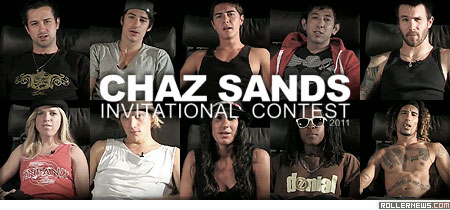 A personal look how some of the worlds best professional bladers feel about life on wheels, how they got into rolling and how it has affected their lives.

Get a look at the professionals and amateurs rolling as they warm up for the competition. Kato and the guys discuss the importance of competitions to the blading as an industry and how the WRS (World Rolling Series) works to bring them all together and unite that industry.

Get an inside view into what the international pro's think of the UK scene and an exclusive look into a warmup session that went down a couple of weeks before the event, involving some of the UK's finest riders.
Join the discussion as the pro's talk about the change in venue from Unit 23 skatepark in Scotland, to Rampworx in England to accommodate a WRS event. Chaz walks you through the changes the guys at Rampworx made to the park, and how he thinks the competition will play out.

The pro's and VIP's all arrive for the event and head back stage to chill out. Everyone discusses their expectations for the competition and tricks they might try whilst competing. See the highlights from the Amateur and the Female Competitions, with Jenna and Fallon's views on how they skated.

Also, have a look at who the WRS riders thought were favourites to win the Pro Comp and why. Get an extensive look at the professional competition and awards ceremony.
Cameras: Simon Mulvaney, Jordan Maders, Stew Game, Guy Gotto, Sam Starkey, Grant Major, Lawrence Badger. Audio Technician: Neill McCartney ; Director: Simon Mulvaney ; Line Producer: Ian Robinson ; Producers: Simon Mulvaney, Chaz Sands, Matthew Dearden.
Songs
Chaz Sands Invitational: Time Machine
2011 | 2010 | 2009 | 2008 | 2007.
2011 Winner: Julien Cudot (full results).
2010 Winner: CJ Wellsmore (full results).
2009 Winner: Julien Cudot (full results).
2008 Winner: Brian Aragon (full results).
2007 Winner: Chris Haffey (full results).