Thursday, January 12th, 2017
Sorry America, is a full length sk8 film about my recent travels around the states with my brother and other close friends. LONG LIVE ROLLERBLADING. – Justin Chad Anthony.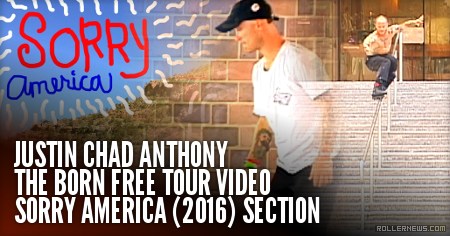 Filmed by Brad Anthony, Josh Broughton, Jan Welch, Matthias St. John and Hunter Cooper.
Music: Ultra Light Beam, By Kanye West & Chance the Rapper.
Video on Sellfy. Pay what you want, currently starting at $0. 50% OF THE FUNDS COLLECTED WILL GO BACK TO THE BORN FREE PROJECT. 50% OF THE FUNDS COLLECTED WILL BE DONATED TO THE CROWDRISE.COM 'BRING ELLIOT BACK TO HEALTH'.