Wednesday, January 14th, 2015
February 2010 Repost. Note: The BCSD ended in 2013.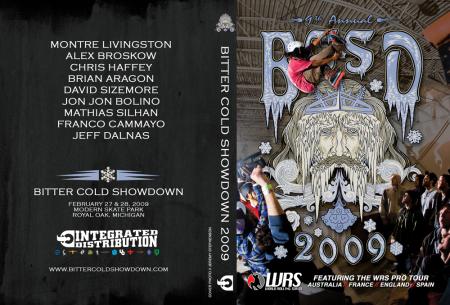 What is left to say about the Bitter Cold Showdown? Each and every year is bigger, better and more exciting than the last.

The 9th annual Bitter Cold Showdown was no different. Jeff Dalnas, Franco Cammayo, Mathias Silhan, Jon Jon Bolino, David Sizemore, Brian Aragon, Chris Haffey, Alex Broskow and Montre Livingston battled it out for the 2009 title and kept the crowd cheering until the very end.

The 2009 DVD features every unforgettable trick from the contest along with commentary from the competitors. In addition to the contest, Detroit native J.C. Rowe takes you through the official industry trade show to give you an inside look at what's going on with some of your favorite rollerblading brands.

The DVD also features the World Rolling Series pro tour and covers events from Australia, France, England and Spain. If you haven't had the opportunity to experience the BCSD first hand or are one of the hundreds of attendees eager to see everything you missed, pick up the Bitter Cold Showdown 2009 DVD and enjoy every moment of the world's biggest rollerblading event.
Part 2, Part 3 + Bonus
(more…)