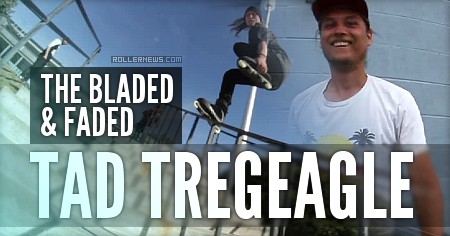 Tad Tregeagle filmed this section over the course of two years. Here you see footage from all over Utah, Nevada, Washington, and Oregon. If you haven't seen much of his skating, be prepared to become a fan. Also big thanks to everyone who helped filming his part and the video. – Manuel Rodriguez.
The Bladed and Faded Video
Featuring Salt Lake City's finest rollerbladers. This video was the product of two years of filming for us. We put our blood, sweat and tears into this project and I couldn't be more happy with how it turned out. Full Profiles from John Dickerson, Chris Napoleon, and Tad Tregeagle. Also featuring mini profiles from Manuel Rodriguez, Nic Justet, Jett Rhennert, Marc Clune, Hazen Bell and Daniel Bird. Not to mention many others also featured in the video. Hope you purchase and enjoy the video as much as we did filming for this thing!
More Media: Hazen Bell | Chris Napoleon | Trailer | Sellfy Link ($3).
Visit Bl8ordieblog.wordpress.com.

Support Rollernews:
make your purchases on
Amazon via this link
. Thanks!