This is a session on the infamous UH44 box, which was donated by Amnon Klein to Marijn De Rooy of the Student Verhuis Service.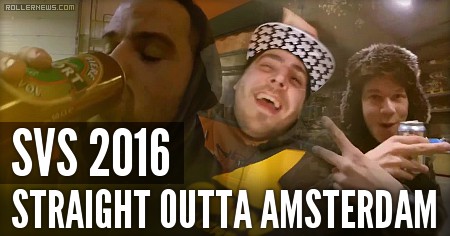 The session features some of Amsterdam's finest bladers: Adil Farhouni, Pascal Tan, Ryan Claus, Remy Schmidt, Marijn De Rooij and Bas Berghuis ofcourse.
Every friday there might be a session going on here, what's for sure is that there is a lot of fun to be had. Always a pleasure to see these gents blade, even if it's just on a 8m80 long practice box! – Remy Cadier.
Trivia: Studen Verhuis Service is a company owned and started by Dutch OG blader Marijn de Rooy, it is one of Holland's biggest moving companies, with it's own warehouse with over 20 trucks, and some roomfor a skatebox!

Support Rollernews:
make your purchases on
Amazon via this link
. Thanks!
Tags: amsterdam, pascal tan