Straight Jackit was a term thought up by Jeromy Morris, Alex Broskow, Brandon Mateer, and Adam Johnson as they journeyed from Kansas to California for the first of many trips. The Straight Jackit video won video of the year in 2003 and was nominated for sections of the year for Chris Farmer and Alex Broskow. 2009 Repost.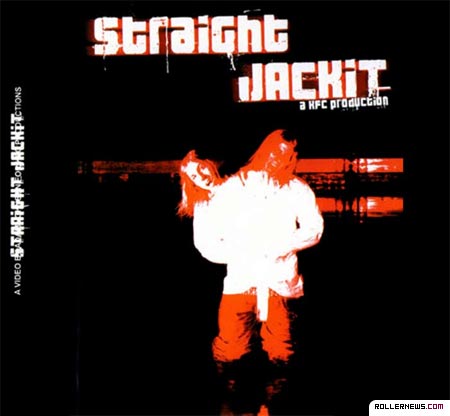 Straight Jackit Part 1: Intro
This is the introduction to Straight Jackit, the DVD that propelled Vibralux into the limelight and featured some of the hottest skating to date. Ignorant kids still claim they like Broskow and Farmer better in this video then current projects… silly.
Straight Jackit Part 2: Brian Aragon

Brian Aragon's breakout part when we put him on game. Should have been scooter blader x, but everything is what it is for a reason…
Straight Jackit Part 3: Aesop montage
Straight Jackit Part 4: The KFC montage
The KFC montage in Straight Jackit was one of my favorite parts of the video. Most everyone in the crew came out and handled at least one trick for this part.
Straight Jackit Part 5: (Metallica montage)
Straight Jackit Part 6: Chris Haffey
Straight Jackit Part 7: Chris Farmer
Chris Farmer filmed this part of the video in 10 days without his right ankle. If you notice he only does a handful of things with his right foot due to an injury. Since Jero and I were going to be in town shooting he sucked it up and came through with a part. Professional grade dedication.
Straight Jackit Part 8: Alex Broskow
Alexander Broskow is featured in this section from 2003. Style was a bit different, but it was one of his breakout parts as a skater. Won section of the year in 2003.
Straight Jackit Part 9: Vibralux Team part
This is the Vibralux Team part from KFC 3 Straighjacket. Features Alex Broskow, Chris Farmer, and Chris Haffey. Winter 2003 release.
Straight Jackit Part 10: Credits

Support Rollernews:
make your purchases on
Amazon via this link
. Thanks!
Tags: adam johnson, full video, kfc, kfc 3 straight jackit