Schmidty's Ramp, along with The Blade Museum, SVZ, & your favorite scumbags came together & organized the first annual Schmidty's Ramp and Camp Mini Ramp Contest/ Rail Jam. Held in West Lafayette, Indiana.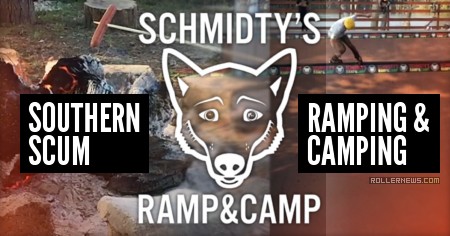 We wanted to get the real experience, so we spent 5 days RV traveling, late night partying, bond fire grilling, lake fishing, swimming, bathing. Most importantly ramp skating & down rail grinding.

The majority of our trip was captured on the skitch VX, & will all go to the Born Free Tour Video. But, I was able to whip out the old Death Lens App a couple of times to grab these magic moments.
Big shout out to Tim Schmidt & Savannah for once again allowing us to ransack their property & invite way too many people. Huge shout out to Cameron Card, Tad, Kazu Mori, & Lulu for giving everyone of us something to strive for. To see two families willing to risk so much, travel so far, all in the name of rollerblading is truly magical. You all deserve all the great things headed your way. Cameron, you are a ripper bud. Thanks for stopping by the RV for that session. We were honored. Congrats on the 1st place victory.
Thank you SRC for letting southernscum & company be part of such a memorable experience. From this point on, nothing will ever be the same. LONG LIVE ROLLERBLADING. PS. Tim, sorry for paddling over the property line. Those Chicago heads always get me going! What a tremendous way to say good bye to the summer!

Support Rollernews:
make your purchases on
Amazon via this link
. Thanks!