Filmed & edited by Vincent Ravel & Yoan Bobillon.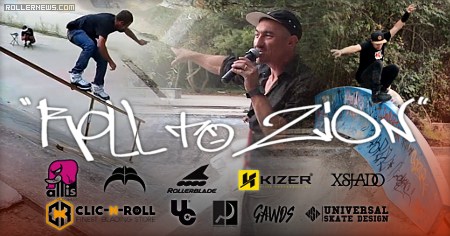 Roll to Zion, DIY contest (located in the town of Bourg Saint Andeol, Ardeche France) took place in an old abandoned water park with a dolphin shaped bowl and not less than 3 modules built for the event.
Music: Damian Marley – Road To Zion (Feat. Nas), Nas & Damian "Jr. Gong" Marley – Nah Mean.
Full Results

Curb Coping
Sebastien Curtis
Julien Joubert
Emorej Ratpi
Rainbow Hip
Po Rouge
Arthur Antoinet
Mael Franky Horjales
Thomas Riffaud
Julien Joubert
Bob Lemarrant
Gros Rainbow
Fred Francis Ford Back
Bob Lemarrant
Thomas Riffaud
Po rouge
Charly Renardeau
Kink Rail
Arthur Antoinet
Thomas Riffaud
Clemounet
Plura Alexandre
Crew Contest OUT
Team Shlague: Po Rouge, Lucas Spenle, Sylvain Humbert Labeaumaz
Fusion Montelimar/ Valence: Emorej Ratpi, Zing Ze, Mickael Barette, Long John, Laurent Grinder
Crew Roll to Zion: Nouch Ma, Arthur Antoinet
Crew Clic-n-roll: Bolton & chuck norris
Miaou mix: Fred Charly Arsene
Bonus spot: double rail line
Thomas Riffaud
Mael Franky Horjales
Sebastien Curtis
Best line
Arthur Antoinet
Po Rouge
Mickael Barette
Thomas Riffaud
Charly Renardeau
Laurent Grinder
Lucas Spenle
Casper Troy
Guillaume toussaint
Loic reboulet
Emorej Ratpi
Zing Ze
Special price: Mael Franky Horjales for his huge transfers
Best fall: Mael Franky Horjales
Best Trick: Arthur Antoinet (Soul to bac savannah)
Best Style: Bob Lemarrant
Bests Rookie: PG Bouv & Yanis Trabelsi
Best Daron: Po Rouge
Best Deter: Julien Joubert
Mr Propre: Thomas Riffaud
Le king of Zion 2016 est Arthur Antoinet.

Support Rollernews:
make your purchases on
Amazon via this link
. Thanks!
Tags: france, roll to zion