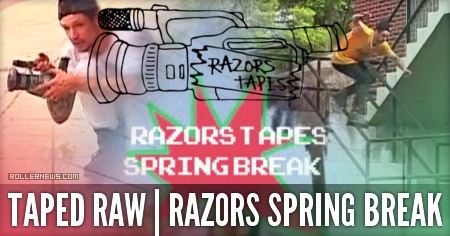 Spring Break Forever. The Razors squad knows this, so they loaded up a minivan full of dudes, the cam full of tapes and took to the Florida highways, GPS dialed in to Kona to hit the 9th Annual Pow-Wow. An event of epic proportions. While en route, spots were spotted and things happened.
Featuring parts from Jeph Howard, Howard Bennett, Shane McClay, Jarrod Banning, and Casey Wilson.

Filmed and edited by Jeph Howard. Additional filming: Shane McClay, Howie Bennett, Jarrod Banning. 16mm: Casey Wilson.

Support Rollernews:
make your purchases on
Amazon via this link
. Thanks!
Tags: florida, jeph howard, taped raw