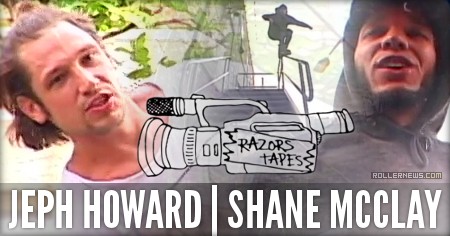 Jeph Howard and Shane McClay took several trips up to a special town in northern Minnesota called Duluth to film a special piece all in this one city. A beautiful city built on a bluff with endless skate spots and even more weirdos to go along with it. 5 separate trips, 1500 miles, 8 tanks of gas, two VXs and a couple fresh pairs of skates they were able to smash this piece out!
15 Minutes of great skating and a ton of extra stuff you expect from the Razors Tapes Chapters. It only seemed fitting to use all Bob Dylan since this is the town he is from.
Filmed by Shane McClay, Jeph Howard, Kevin Meland & Wilson Robinson. Edited by Jeph Howard. Music: Bob Dylan – On the Road Again, Outlaw Blues, Highway 61 Revisited, Just like Tom Thumb's Blues.

Support Rollernews:
make your purchases on
Amazon via this link
. Thanks!
Tags: jeph howard, minnesota, shane mcclay