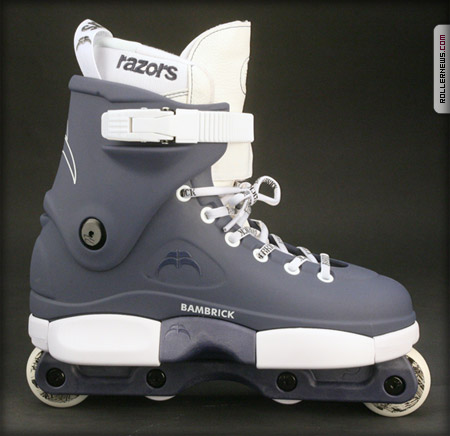 Don Bambrick's first pro model is a special skate. Not only because of its unique denim blue color but because of it's amazing skating characteristics: Without a doubt, the Bambrick is the fastest sliding skate right out of the box.

Being much closer to the soul because of the baseless skate concept, offers better balance through a lower center of gravity and makes it much easier to lock onto soul tricks. Alley op topsides feel way less of a chore than in traditional skates and it feels as if the soul is the exact bottom of your foot.

The combination of the perfectly grooved backslide plate and Ground Control's Featherlite frame create the perfect balance point for groove tricks, making it way easier to hold one footers like backslides and torques for longer more controlled grinds.

The oversized heel pad decreases road shock and protects knees and ankles from impact pains during sessions. Other great features are its surprisingly light weight and the almost legendary durability and strength which provide full support even after months of skating.
Features:
Baseless boot concept
Replaceable soul frame, backslide plate and sliders
Razors liner with tongue retention system and oversized high density padding
Jug Gel Pad
Razors 56/90A wheels
GC Featherlite frame
ABEC 5 bearings
Sizes: 6-13, and 10.5. MSRP: 279.90.

Support Rollernews:
make your purchases on
Amazon via this link
. Thanks!
Tags: don bambrick, razors, razors don bambrick