I've watched Oscar Sosa become a young blooded spot killer in the last 2-3 years that I've known him. He is not afraid to drop hammers or give a spot his all.

He rolls up to a spot and throws his hardest tricks down. Not to impress one, but to keep progressing. There are times when I won't see him for a few weeks and the difference in his skating is noticeable!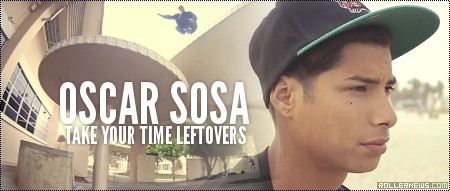 I am constantly telling him, "When did you learn that?" or "That was ridiculous!" Others have taken notice of this fact! Pros, AMs, the average rollerblader all taken notice when Oscar's shedding on streets and skateparks. What's more impressive is how humble he is.
What I pieced together here are mostly year old clips leftover from Take Your Time.

I didn't want the footage to languish away on my hard drive and Oscar's been asked why he doesn't have an edit up yet. I hope this is the start of Oscar filming more often! – Jonathan Labez.
Additional footage by Jeremy Soderberg.

Support Rollernews:
make your purchases on
Amazon via this link
. Thanks!
Tags: oscar sosa, take your time