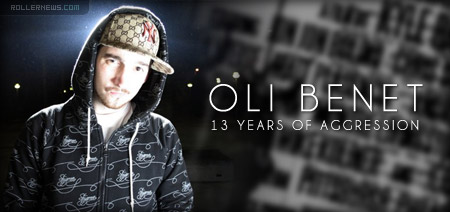 quoting Oli Benet:
I wanted to film a complete profile and so I started with the smaller maneuvers, intending to compliment the profile with a few hammers to finish it off. I wanted to have it completed by the end of September.

However, I tore my ankle on a stupid warm-up trick and 3 weeks later it still hurts even to walk on.

I will be going on tour to Singapore at the end of October with X-mini and I want to be 100% for that, so I decided to put out what I had done and will start filming again as soon as I get back – shoulders and ankles willing.

I want to give a shout out to all my Conference family at Conference & also to Inercia, X-mini and a big thanks to Tony Cheetah for being Barcelona's favourite cameraman – skater – editor and for going out of his way to film and edit this.

Oh and the title! I have been skating freestyle, aggressive stunt (or whatever you want to call it) skating for about 13-14 years, and picked up my first skates at the age of 8, making it a whopping total of 20 years on skates ; thought it might fit as a title for this 'lil edit.

Support Rollernews:
make your purchases on
Amazon via this link
. Thanks!
Tags: oli benet