Fribourg (Swizerland) | Asphalt Blading Club Edit by Stephane Ryter.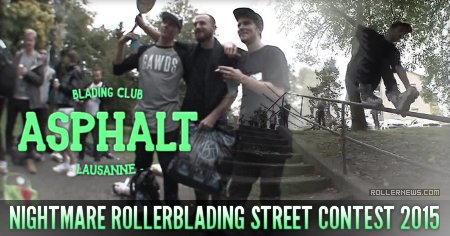 Stephane Ryter and Greg Konig in collaboration with the Asphalt Blading Club present the Nightmare Rollerblading Street Contest. The very first edition took place in Fribourg (Switzerland) on October 3rd 2015.
Results
Geoffroy Dubreuil
Maxime Genoud
Benjamin Wehrli

Support Rollernews:
make your purchases on
Amazon via this link
. Thanks!
Tags: asphalt blading club, nighmare rollerblading contest, switzerland