Left over and unused clips (with some exceptions). Raw and unedited footage from the year of filming with the Manchester blade fam. (sorry about the blank spots). – Alex Burston.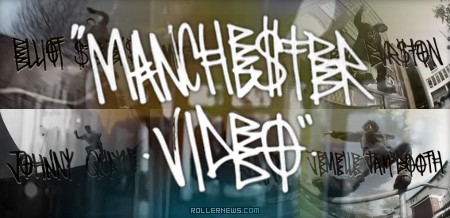 Footage from Elliot Stevens, Alex Burston, Matty Vella, Sam Garland, Jonny Quayle, Jemelle JAM Booth, Rumel Haynes, Scott Hallows, Blake Bird, James Bower Brados Beepho, Kyle Murray, Chris Laffey, Brandon Reubens, Korey Waikiki, David Mutschall and maybe more.
MCR Video Manchester: featuring sections of Matty Vella, Elliot Stevens, Alex Burston, Johnny Quayle, Sam Garland, Jemelle "JAM" Booth, Brandon Reubens & Brados Beepho. Also featuring Scott Hallows, Rumel Haynes, James Bower, Blake Bird, Albert Hooi & more.
Filmed on TRV900. Filmed by Alex Burston (and mates). Edited by Alex Burston. Credits by Pete Obsolete. Available as a VOD.
MCR Video (Manchester): Trailer 1 | Trailer 2.

Support Rollernews:
make your purchases on
Amazon via this link
. Thanks!
Tags: manchester, mcr, mcr video