A few weeks ago Levi Van Rijn and I were talking about making a profile and since i am living in Paris for a while why not visit this city with endless spots. – Cavin Brinkman.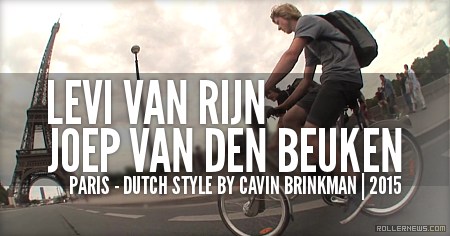 Levi was down for the plan and asked if it was okay if Joep van den Beuken (from Venlo) could join. I didn't knew Joep really so i said "only if he produces clips". Levi promised me he would.

So a bus got booked, a fouled up bike got borrowed (and sadly also stolen) and the 2 boys where of on a adventure to the city of love. Skaters that have filmed with me in the past know i don't fool around when i want clips so the boys where in for a surprise. For weeks i was already sending them photos of spots i found.
Little did they know that all the best spots in Paris are located in the sometimes ghetto suburbs and that we had to bike a lot. The first two days the temperatures went up to sometimes 38 degrees but the fire poles where open so on every street corner there was a cold shower.
Also featuring Elliot Amour. Shot half on a iphone 5 and half with a sony HDR-FX1E.
Visit Cavin035.tumblr.com.

Support Rollernews:
make your purchases on
Amazon via this link
. Thanks!
Tags: cavin brinkman, france, joep van den beuken, levi van rijn, paris