Featuring Thibault Barbaza, Umberto Toselli, Jeremy Ghouila & Victor Legrand.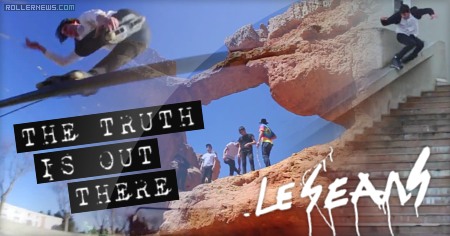 The scene in Lyon has always been very active in the French blading community with its mythic spots, its charismatic skaters filled with style but mainly thanks to this "je ne sais quoi" characterising the detachment and certain arrogance of its skaters.

Today, after a few years of waiting since their last online edit, the predominantly home grown scene from Lyon, led by the Sean's crew, is coming back with a full length video: Le Sean's III. […] – La Roulette.
Homies: Tony Aulas, Brian Bina, Greg Blan, Jon Matter, Mathias Silhan, Christophe Brumby, Jimmy Dubost, Louis Vilar, Umberto Toselli, Kevin Pechuzal, Elois, Antoine FrereJean, Julien Schneider, Clement Haudegand, Martim & Rodrigo Braz Teixeira, Simon Stehle, Thomas Pfluger, Matthias St John, Samuel Courdent, Vasco Moyal, Julien Cudot, Paul Nedelec, Romain Zimmerman, Farside Crasch, Stephane Dupic Garnier, Antoine Erimian, Thomas Nassens, Salim Sikha, Mathieu Hennebert, Joe Atkinson, Clement Barbaza, Seba Seufferheld, Arsene Jurman, Pierre Adrien, Amir Zemmour, Lucas Vassord, Stephane Mosselmans, Remy Meister.
Filmed & edited by Victor Legrand & Clement Barbaza. Jeremy Section filmed by Edwige, edited by Jeremey Ghouila. Music: Can – Obscura Primavera, Mens Adventures – BB Vulture, Telex – Twist à St Tropez, Black Widow – In Ancient Days, Black Sabbath – Black Sabbath, The Sword – Fire Lances of the Ancient Hyperzephyrians, Telegram – Follow, Amon Duul – Paramechanische Welt.
Article + Photos on Laroulette.eu
With these guys one can only expect a video filled with commitment, punctuated by good rock n' roll but also a fair bit of bullshits. We had the chance to talk to Clement Barbaza and Victor Legrand just a week before the video release.

Full Article (french + english language).

Support Rollernews:
make your purchases on
Amazon via this link
. Thanks!