For those of you that don't know who Kaya Turski is I'll give a bit of background on her. At just 14 years old she turned ASA Pro, and continued to dominate Womens Rollerblading, street and park.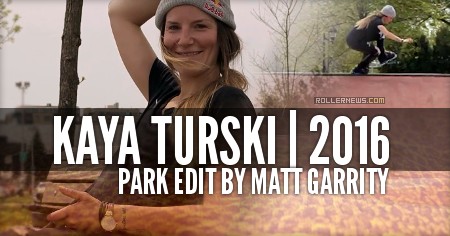 She would reach the podium in pro Men events, and put out street sections that would put most men to shame. At the age of 17 she discovered skiing (thanks to D-Structure selling both rollerblades and twin tip ski's).
After working a job at two Subway locations she saved up just enough money to work on her skiing in Whistler. Within the year she signed her first pro contract. At age 28, she has now been a professional athlete for half of her life. […]
Kaya Turski: Interview & Photos on Montrealblading.wordpress.com.

Support Rollernews:
make your purchases on
Amazon via this link
. Thanks!
Tags: girls, kaya turski, matt garrity