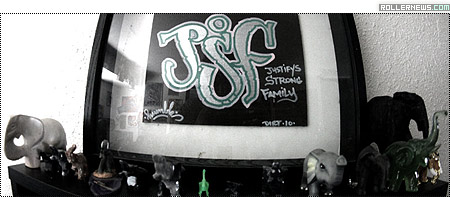 Featuring Jayson Reduta, Dustin Dixon, Casey Bagozzi, Rob Guerrero, Danny Malm, Scott Moore & more.
Song: EnZyme Dynomite (Jared Magers) – Juiced. Visit Juicedsuckafoos.com

16 years of JUICE: A sit down with the founders of the JSF crew
FACT: JSF is the only active crew to still be around since Battle My Crew (a pivotal VG production).

As an outsider, I viewed JSF as a wild crew of insane stunt skaters who took the over-the-top Hyphy attitude from the local hip-hop scene and turned that energy onto blading. In almost all situations, that's entirely true.

The membership has grown over the years, but the core of JSF has gone unchanged during the 16 years the Northern California rollerblading crew has existed. They are as loud, boisterous, and enigmatic as ever, and despite a leadership that is now settled into their 30s with wives and kids, JSF is still a proud, undeniable force in rollerblading at a time where crew skating is now re-emerging. […]
Full Article by Brian Krans on Amall.
JSF Hats & Tees are available @ Amall.

Support Rollernews:
make your purchases on
Amazon via this link
. Thanks!
Tags: jsf, sean keane