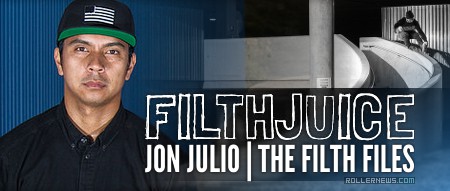 Jon Julio is an icon in skating and is a force to be reckoned with. He has proven year in and year out that a love for skating will take you to places in your life you've never been before.

Gratitude towards the man is the least any skater can do, but he's not looking for recognition, he's looking to keep skating strong and influential until the day he dies. […]
Photos, Videos & Anecdotes, presented by Erick Garcia (ESG).
The Filth-Files: Jon Julio – Full Article on Filthjuice.com.

Support Rollernews:
make your purchases on
Amazon via this link
. Thanks!
Tags: erick garcia, jon julio, og