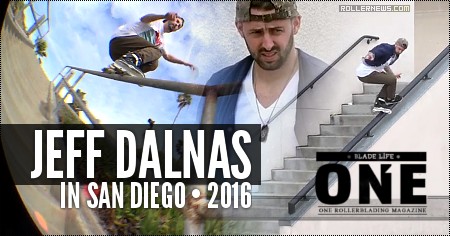 What can we can say about Jeff Dalnas? He's not concerned with your trends. He talks shit. He's been juggling work and pro blading for a long, long time.

He's a real dude that says what he means and isn't afraid to ruffle feathers. Oh, and he's really damn good at rollerblading — as he proved over and over again during his short visit in March — just two and a half days of filming! He called our long days "the workout plan", we called it taking advantage of a great situation.

So here it is — Jeff Dalnas in San Diego, another ONEblademag Capsule from JE and Macgowan. Enjoy.

Support Rollernews:
make your purchases on
Amazon via this link
. Thanks!
Tags: jeff dalnas, san diego