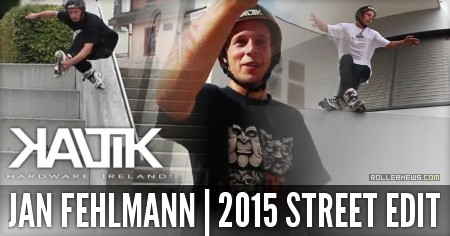 This is my second street Edit from this year. I had alot of fun, a great time and meet a lot of new people.

Here are a few tricks from my sessions at the end of the summer 2015. I'm very thankful to everyone that motivated me to keep rollin, did some sick session with me, filming me, help to realise my next Street Edit and enjoy the live with me! – Jan Fehlmann.
Filmed by Alex Gheorfi, Beat Schillmeier, Benjamin Wehrli, Claudio Bohli, Dejan Harnik, Luca Walther, Manuel Wullschleger, Martin Bommeli, Mihai Militaru, Stephane Ryter & Till Zimmer. Music: AWOLNATION (Unofficial Video) – Sail.
Previously: Jan Fehlmann (Switzerland): 2015 Street Edit.
June 2015.

Support Rollernews:
make your purchases on
Amazon via this link
. Thanks!
Tags: best-of, jan fehlmann, switzerland