Here is my last edit realized with the footage I could gather from 2015 in the South of France (Montpellier, Nimes, Grenoble and my hometowns of Bagnols sur Ceze and Laudun) and specially during the last few months before I left to Costa Rica in October.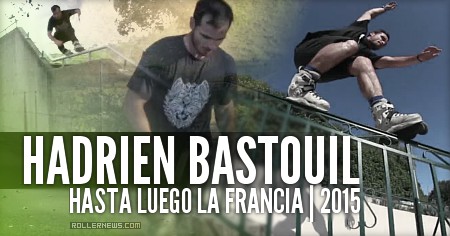 Because I had wanted to film until the start of this new adventure the editing of this video under the tropics became quite a challenge as the early steps were done in buses between two cities or between new encounters.
Skating starts at 0:50.
Then I quickly realized that using a laptop under suffocating heat, constant humidity and dazzling surrounding light wasn't an easy task either. But here we are and since I have spent the last month in a small town on the pacific coast of Costa Rica were the road is nothing but dust, gravels and holes, not even talking about the no spots and pro surfing settlement of this town, my skates stayed in my back pack and I had to ease my urge to skate making this edit. – Hadrien Bastouil.
Music: Magazine – Motorcade.

Support Rollernews:
make your purchases on
Amazon via this link
. Thanks!
Tags: france, hadrien bastouil