The West Coast Contest is a fun contest that takes place every year at the skatepark of Bordeaux (France).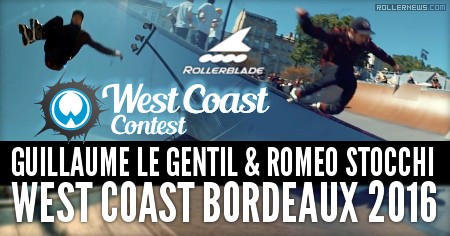 Guillaume Le Gentil introduces his friend Romeo Stocchi, who is a young rookie that loves his new solo skates he got at this year's Winterclash.
The flow when Romeo Stocchi skates caught the eye of mister Tom Hyser, and Tom hooked him up with a pair of new skates. Flow with Guillaume and Romeo at the West Coast Contest in this video.


Support Rollernews:
make your purchases on
Amazon via this link
. Thanks!
Tags: bordeaux, france, guillaume le gentil, romeo stocchi, west coast bordeaux, west coast bordeaux 2016