Have you ever traveled to a contest, just to find the perfect spot on your way? Here is a story by Guillaume le Gentil.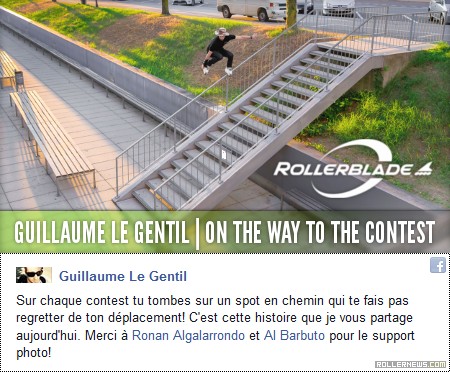 Photo: Back Backslide (larger picture) by Al Barbuto.
Lausanne – August 22, 2015 – Sevelin Urban Festival.
It was 11:37 am on saturday when I arrived by train to Lausanne to join the other Rollerblade team members. I knew the skatepark was close to the train sta­tion. After walking 15 minutes, I heard some noise from a microphone, which sounded like an event.

I knew I wasn't far. I followed the noise and headed down the stairs from the train station. I stumbled upon a 20 stair, square drop rail on both sides of the stairs.

This was the kind of perfect American drop rail that I've been looking for the past 15 years! Right then, I knew that I was going to be able to skate these rails.
I was late and excited to meet with my Team Rollerblade brothers and all my friends. I moved on and kept this perfect drop rail spot in my mind for later that day. […]
Photos + Article on Rollerblade.com.

Support Rollernews:
make your purchases on
Amazon via this link
. Thanks!
Tags: guillaume le gentil