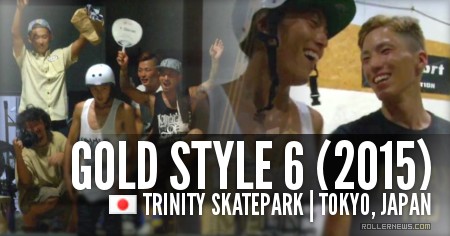 Chiaki Ito presents Gold Style vol. 6 (2015) at the Trinity skatepark (Tokyo, Japan). Report filmed by Hrk Kjym.
Featuring Eiji Sakihara, Fumiya Matumoto, Hideki Kawai, Haruki Dozen, Hidetaka Kojima, Hikaru Suzuki, KAZU, Katuhiko Sagata, Kazuya Ito, Kouichi Iguchi, Ryoma Narusawa, Shintaro Nakayama, Soichiro Kanashima, Tomoyuki Hirano, Yuto Goto, & more. Music: Diary – Free the Robots.
Results
Soichiro Kanashima
Yuto Goto
Ryoma Narusawa
Gold Style (Japan): More Media.

Support Rollernews:
make your purchases on
Amazon via this link
. Thanks!
Tags: gold style, japan, soichiro kanashima, tokyo, yuto goto