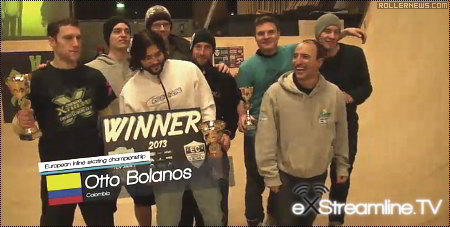 Otto Bolanos (COL)
Rich Parker (GBR)
Nicolas Mougin (FRA)
Nel Martin (ESP)
Roel Fritz (NED)
Davide Gionanni (ITA)
Daan Hammerstein (NED)
Kiro Trayanov (BUL)
Alex Eastwood (GBR)
Rob Parker (GBR)
Kristian Uhre (DEN)
Bart Visser (NED)
Boris Grozev (BUL)
Alexanddre Lee (NED)
Suyanto Ten Foei (NED)
Douglas (GBR) – hurt
Rich Parker (GBR) is the new European Champion ahead of Nicolas Mougin and Nel Martin (ESP).
Full results courtesy of Online-skating.com. Photo: Extremeline.tv.

Support Rollernews:
make your purchases on
Amazon via this link
. Thanks!