Dan Armbruster, aka Armbuster, aka The Junk Dawg, has been working on this part for a while. It started out the 2nd day I received my fish eye, and Dan happened to be coming to town.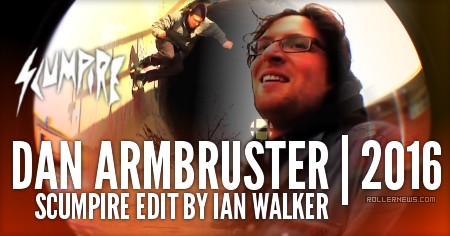 I never really hung around the junk dawg too often, so we hooked him up with a place to stay, and thought maybe filming a weekend with junk dawg edit, while I was figuring out my lens… But the man wanted more.

I was so intrigued by the Junk Dawg I also wanted more. Dan got smoked many, many, many, times during this, and i'm very happy to finally put this baby out. Congrats Junk Yard Dawg. – Ian Walker.
Look out for Dan Armbuster's 2nd installment of the Trill series "2TRILL" dropping this summer. Featuring Austin Cooper, Tom Leong, Ian Walker, Howie Bennett, and the man himself JUNKDAWG.

Support Rollernews:
make your purchases on
Amazon via this link
. Thanks!
Tags: dan armbruster, ian walker, scumpire